.+* HOME *- -*Recent *- -* General *- -* Cutters *- -* Aviation *- -* Stations *- -* Others *- -* BOOKS *+.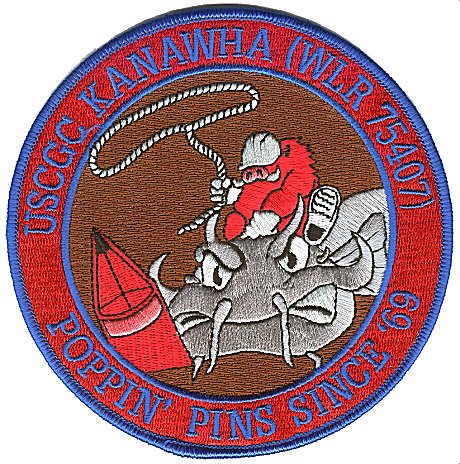 Patch
Makers
Need a patch made for your unit?
If CGC KANAWHA can do it, so can you!


Here's the hot word / skinny / scoop on how to get a patch ...

Email me and tell me you want one.

It's really that simple, especially if you have some notion of what you're doing.

You need (1) money, (2) artwork, and (3) a middleman producer to deal with the embroiderer in China.

1. Money-wise, you need an individual willing to finance the patch run personally, a morale officer/committee able and willing to fund the project, or a government purchase card if you can get the Coast Guard to spring for the funds.

2. You need a design in a finished artwork form. Many patch producers will do some artwork for you 'for free' from your rough sketch, if you buy your patches from them. This works, but their patches cost more because, somewhere, you have to pay for their artwork time. And the artwork may only be suitable for producing the relatively small patch. If you do the artwork separately, you have graphics available for clothing, your website, certificates, brochures, and many other PR applications.

3. You need someone to produce the patch - someone who knows how to deal with the embroidery company in the Far East who will ultimately actually manufacture your patches. We speak patch-eze, have an understanding of thread color and cloth codes and patch design, and knows how to deal with US customs to get your patches into the US. None of this is really hard, but you need to go on watch, rescue that person in distress, work that buoy, chase that druggie and tend to a myriad of other Coast Guard business. So we producers do the patch procurement stuff for you.

There is a little patch-eze you need to know because it affects what your per patch price will be. These relate to (a) quantity, (b) size, (c) shape, (d) percent embroidery, (e) edge, (f) backing and (g) colors.

A - Quantity. The more patches you buy, the less expensive they will be, per patch. Most producers require a minimum order of 50-100 patches. I require fewer because I make up the difference and sell the extras on my own account in my webstore. There are usually price breaks at 150, 250 and 500 patches of noticeable significance. Savings flatten out for even larger orders.

B - Size. The bigger your patch, the more you pay. Makes sense. The size of your patch is the width plus the height divided by two ((w + h) / 2). Smaller patches cramp most designs. Really large designs just cost a lot. I encourage size to be 4-6", with 4.5-5" being my preferred range. But most embroiders can do up to a foot or so.

C - Shape. Got'cha. Shape doesn't affect your price. Just width and height. So be creative ... there's lots more than round, oval and square. Outies, even significant ones, are not a problem. Look thru my Archive for ideas.

D - Percent Embroidery. If you embroider your patch all over (100%), it will cost more. If you don't embroider a background, you may embroider only 60% or 80%, letting the cloth color be the color desired, and your patch will cost less. I personally think less than 100% looks less durable and cheap. 100% is my preferred level of elegance and durability.

E - Edge. Edging does not affect price. The edges of patches are either 'merrowed' or 'laser cut'. Merrowing is that over the edge stitch that wraps the edge in a protective layer that keeps the edge of the patch from fraying. Laser cut, sometimes called hot cut, uses a hot knife or laser that cuts and melts the threads into a solid edge that won't fray. Scissor cut patches, where the cloth is cut away from the edge of the patch design literally with a pair of scissors, are rarely seen anymore.

F - Backing. Backing to the patch usually doesn't affect price. Most patches are unsealed (open) or sealed (closed). Unsealed or open patches are just that ... there's no protective backing on the patch. The backing threads just hang out. Usually its not a problem. Sealed patches have a plastic sealant applied to the back that protects the back and hold the threads in place. A plastic sealed patch is the typical backing. Heat seal (iron-on), pressure sensitive and velcro backings are available, but cost extra.

G - Colors. Most embroiders include up to nine colors in a design in their standard prices. Fewer colors do not cost less. Additional colors are an additional cost per color, usually relatively small. Unusual metallic or luminous threads cost extra.

Oh, yes, time ... patches are usually delivered to you within three to five weeks after your final approval of the sample patch (assuming you're in port!). Sometimes, shipping schedules will add a week, but not often. Most of that time is in the shipping from the embroiderer to me to you.

If you have any questions, email me ... I'll be glad to confuse you further.

OK, you know enough to be dangerous ... send that email! We'll get it done!

Here's some folks that can do what needs to be done ...



CutterAgent

Rob Green, CutterAgent, is no longer operational.
The brand CutterAgent has been sold to an outfit that I do not recommend.


Rex M. Wessling

Yes, yours truly, author of these Archives and proprietor of this store, also makes patches.
I offer low minimum order (a reasonable number, please, say 35-50, at least), no money upfront, and low prices.
I do require artwork for a new patch or an old patch scan to copy/modify a little (I can't draw a straight line with a ruler).
Need an artist to creat artwork?

Rex M. Wessling
15706 NE 56th Way
Redmond, WA 98052-4819
phone: (425) 497-1480 (voice mail)
email: wwesslin@ix.netcom.com
website: www.rexmwess.com)

Examples of my work (290+ patches as of 6/2012!):



... and many others! Yours can be next!

These folks do work good also:

Do you (as a patch producer) want to be on this page?
Email me.



Ken Brown
KB Emblem Company
PO Box 128
Peyton, CO 80831
phone: (719) 495-9017
fax: (719) 495-5746
email: kbemblemco@msn.com
website: KB Emblem)

Examples of his work:



Andrew Nelson
Huntzman Enterprises
314 South Elm Street
Stonington, Illinois 62567
phone: (217) 325-3251
email: huntzman@consolidated.net
website: Huntzman Enterprises



Examples of his work:



Wayne Alexander
GMan Emblem
RR 3 Box 353
Hollidaysburg, PA 16648
phone: (814) 696-3225
email: gmanemblem@atlanticbb.net
website: GMan Emblem

Examples of his work:



*
Best wishes on your patch! Please let me know when you make one.
I need thirty for my Archive and my store!